Uncategorized
A Little Insight of What Is Under The Roof of AppAsia Talents Club
Why Internship at AppAsia Talents Club?
Internships are said to be one of the most crucial process of learning for a student and no matter where or what type of company you choose to do your internship, the outcomes will ensure you the best opinion in determining which next career path is meant for you. But for the sake of the experience of it, only the ones who had been there and done that, knows the real deal of an internship. Want the best opinion? Spare a few minutes of your time and read this as I assure you the most accurate five live-experience reasons why you should choose AppAsia Talents Club for your internship, and what is more genuine than from the one who had been here first?
First and foremost, it is the perfect spot for designers and developers internships.
From the hundred and ten percent works which are all genuinely powered by interns, to the hundred and twenty percent guidance and knowledge from the superiors during the learning process, AppAsia Talents Club has it all. Most company mistakenly took granted of the privileges of having interns in their company and regard us as merely cheap labors for running errands but not here in AppAsia Talents Club. All applications that had been proudly published are all the products of the creativity from the interns that are working under the roof. This is the most perfect stage of evaluating and improving the potentials that all designers and developers has, all this time that had been shadowed from the spotlight.
To those who have not yet to see or not knowing about how our office look like, then you better check it out now! Yes, NOW!
We, the interns that are currently working in AppAsia Talents Club took pride in our office. Yes, even the postman that came to our office was mesmerized by the unique concept and I can tell you that the one that was really standing out than the rest is situated in the center of our office, the majestic pool table. We are so proud of our superiors for the considerations of providing us such a cool workplace that came with the leisure package for us to work and have fun at the same time. There was even one time when we played pool together with our supervisor and we had so much fun and honored to know that we are still regarded as more than a mere employee in the company. We are one big family.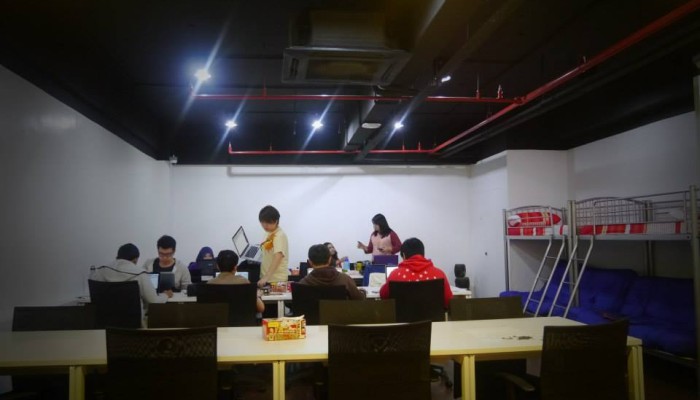 Mutual respects for and from the supervisors.
Through our life we had been taught on how to respect and mind our conduct around our supervisors but little did we know that respect is not only what you earn but also what you give to others. Here in AppAsia Talents Club we witnessed the truth behind the words. Though the internship office is located on a different level from the main office, some of our supervisors works on the same floor as us and made it easier for us to approach them in any case where we need their guidance and advice. Internships students here are treated by the superiors like their own child, but that never stop us from being responsible for our works and at the same time ensuring that we perform our best to prove our worthiness in the company. These mutual understanding and great interpersonal communication culture helps to nurture a sense of mutual respects for our superiors and eliminates any harsh hierarchy treatment in the workplace.
Friendly environment and cultures that will promise you the best experience of friendships and learning.
Nobody could deny the fact that some students are scared to have high expectation on their internship due to the bad experiences told by some seniors and the terrifying story of how interns are always being mistreated. Sadly that these students are already beginning with their wrong first step into the working world, accompanied by those poor thoughts. Thus, by considering this situation had made our company pledged to provide the best office environment by providing a comfortable and relaxing workplace for our interns. We are also encouraged to always welcoming our new interns with warm smiles and guide them to settle in the new environment. Things could be worse and we are all aware of the nerves attack on your first day of internships but great new friends never fails to help cease the stress and put on a smile on your face for you to get through the day.
As an intern myself, the golden opportunity for me to pursue my industrial training here in the company had granted me not only valuable knowledge but also a precious new family. The ones where I can call as my superiors for advice and at the same time as dearest friends for a good laugh that helped me to improve myself and preparing me for the upcoming challenging career world.
Well, enough praising and lets start your journey towards a wonderful and cool internship experience with us by sending in your resume to us!